Punching shear resistor (PSR) studs are large-headed shear connectors that are welded to flat steel bars (creating stud rails) and used for shear reinforcement in flat concrete slabs to replace stirrups and column capitals to resist the punching shear stress in the slabs.
The PSR10-130-11 is 5/8″ in diameter by 8-1/8″ in length before welding.  Length is approximately 3/16″ shorter after welding.  It is made of low carbon steel, ASTM A108 / A29, 1010-1020.
Type F Ferrules are supplied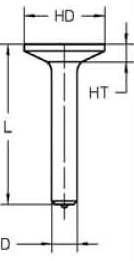 PSR10-130-11 Specifications
Head Diameter (HD):
1.980"
Pallet Weight:
1,017 lbs.
1,000 Piece Weight:
904 lbs.
Weld Fillet Diameter:
1/2"