The TRU-WELD Tier 4 Diesel Generator is a fully-integrated, stud welding system that offers portability for your stud welding needs. This system incorporates a TW6902 or TW6922 Heavy Duty Stud Welder with its own portable power source, which enables you to finish jobs effectively and efficiently, without the costly task of disconnecting the power and moving the unit as the job requires.
TW6922 Dual Gun Drawn Arc Stud Welder
Features/Included
3000 amp power supply, two (2) TWE17000 Heavy Duty stud guns, two (2) cable sets of 50 feet of 4/0 weld and control cable, and 25 feet of 4/0 ground cable w/ HD clamp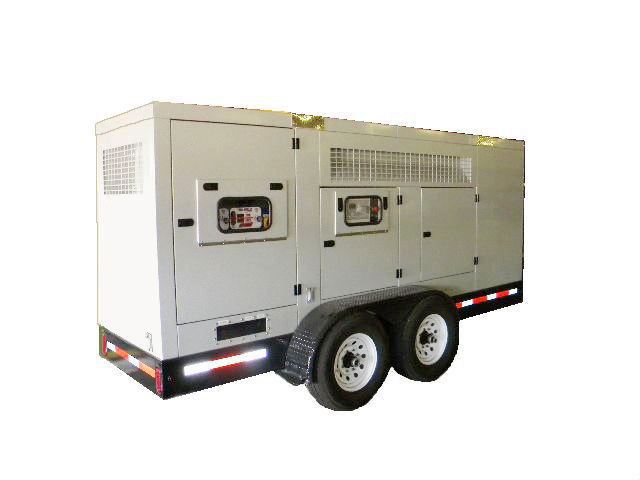 SJ-205-T4 Specifications
Size/Dimension:
Height 100" (2,540mm)
Width 78" (1,981.2mm)
Length 217" (5,511.8mm)
Weight 9800bs (4,445.2Kg)
Weld Range:
1/4" to 1-1/4" diameter
Duty Cycle:
1/4" through 5/8" - unlimited
3/4" - 22 to 24 per minute
7/8" - 16 to 18 per minute
1" - 12 to 14 per minute
1-1/4" - 4 to 5 per minute

* Smooth arc curve allows for the wide rage of welding.
* Enhanced duty cycle for production requirements.
* Powerful output for even the largest diameter jobs.
* Stepless time and current control allow for infinite settings for fine tuning the welding output. *
* Safety welding interlock
* Keeps system from double triggering and saves on chuck wear.
* Stud Job counter which can be reset per job.
Input Voltage:
230 / 460 / 575 VAC 3 Phase 60Hz OR 400 VAC 3 Phase 50Hz
Fusing Requirement:
(slow acting)
230/200 Amps
400/100 Amps
460/100 Amps
575/90 Amps