These general purpose full thread studs are used in all types of applications. They can be welded to a flat surface or to the inside or outside of an angle.
Length is approximately 3/16″ shorter after welding. It is made of low carbon steel, ASTM A108 / A29, 1010-1020.  Tru-Weld full thread studs can be manufactured in any length above the standard minimum length of 5/8″.
Type F ferrules are supplied.
| | |
| --- | --- |
| Length | Part No. |
| 3/4″ | TT12-012-11 |
| 1-1/8″ | TT12-018-11 |
| 1-1/4″ | TT12-020-11 |
| 1-3/8″ | TT12-022-11 |
| 1-1/2″ | TT12-024-11 |
| 1-11/16″ | TT12-027-11 |
| 1-3/4″ | TT12-028-11 |
| 2″ | TT12-032-11 |
| 2-3/16″ | TT12-035-11 |
| 2-1/4″ | TT12-036-11 |
| 2-3/8″ | TT10-038-11 |
| 2-1/2″ | TT12-040-11 |
| 2-11/16″ | TT12-043-11 |
| 2-3/4″ | TT12-044-11 |
| 3″ | TT12-048-11 |
| 3-3/16″ | TT12-051-11 |
| 3-1/2″ | TT12-056-11 |
| 3-11/16″ | TT12-059-11 |
| 4″ | TT12-064-11 |
| 4-3/16″ | TT12-067-11 |
| 4-1/2″ | TT12-072-11 |
| 5-3/16″ | TT12-083-11 |
| 6″ | TT12-096-11 |
| 6-3/16″ | TT12-099-11 |
| 7-1/8″ | TT12-114-11 |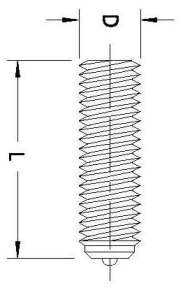 TT12-XXX-11 Specifications
Weld Fillet Diameter:
1-1/16